Helpful Tips For Parking In Wellesley Square
We welcome you to Wellesley Square with a number of convenient parking options.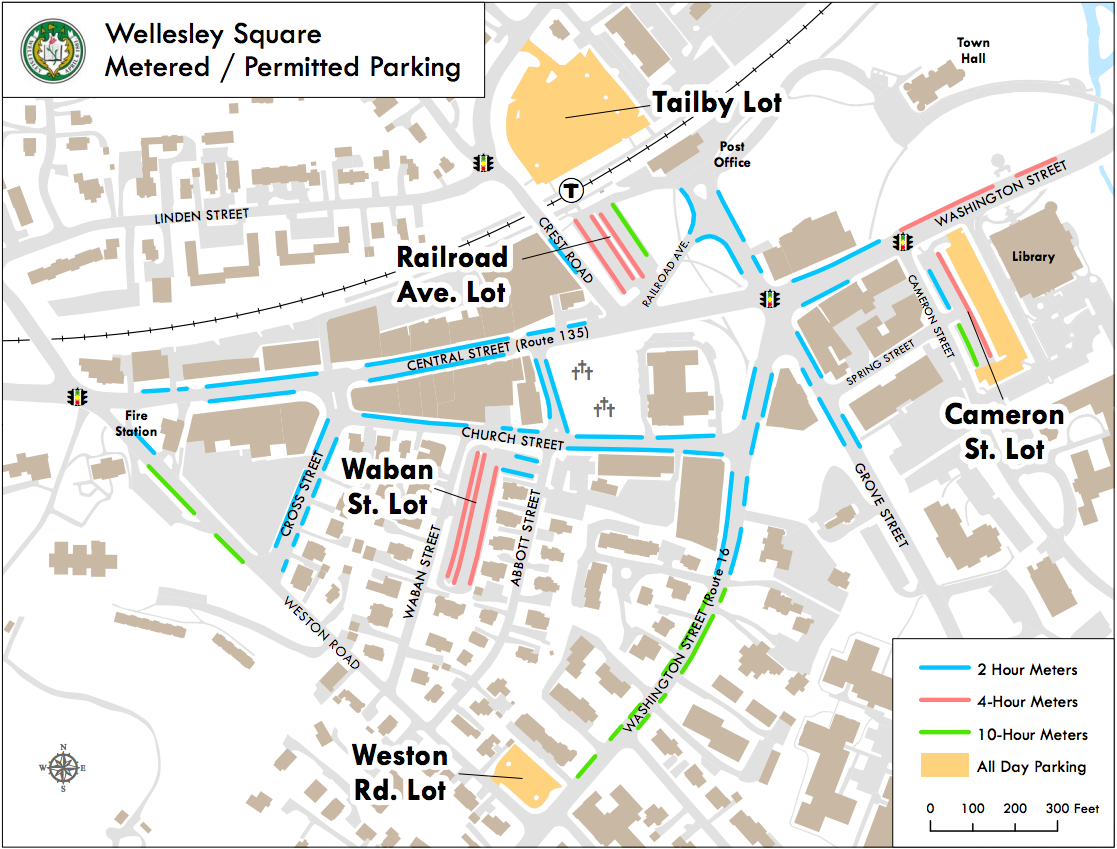 The Town of Wellesley offers two mobile payment applications to help make parking easy, PayByPhone and Passport. The applications are a completely cashless solution that allow you to pay for and extend your parking time from anywhere on your smart device, in an easy, safe, and efficient way.
If you want to pay with coins, you certainly can.
Metered on-street parking is available at the rate of 5¢ for 5 minutes, 10¢ for 10 minutes, 25¢ for 30 minutes, and 50¢ for a full hour.
Off-street parking is also available in Wellesley's Commuter and Business lots as shown in the map below. These lots offer a variety of 2-hour, 4-hour, 10-hour, and all day spaces to meet your specific needs. Stored value cards and/or annual passes for all day lots may be purchased from the Offices of the Town Treasurer and/or Parking Clerk. Pricing and other info on these passes is available HERE.
The Church Square shopping section has FREE PARKING seven days a week.
Free parking throughout Wellesley Square is available for selected events and through most of December. Look for covered meters.
Catch Connect is a curb-to-curb MicroTransit system, allowing the ultimate flexibility to riders.
Wellesley Catch Connect Service:
Catch Connect will service any address within the Town of Wellesley, as well as: Newton Wellesley Hospital, Natick Community Center, Woodland MBTA Station, Waban MBTA Station.
Trips must be booked when the customer is ready and are provided on a first come first served basis!
Riders can make transfers to other transit systems:
MWRTA Route 1 at Woodland
MWRTA Routes 10 & 11 at Natick Community Center
MBTA Fram/Worc Commuter Rail Line via Wellesley Square, Wellesley Hills, or Wellesley Farms Commuter Rail Stations
MBTA GreenLine via Woodland or Waban T Station
Please click here to view a service map.
Service Hours: 6:45AM – 6:45PM, Monday-Friday.
Holidays
No Catch Connect service is provided on the following holidays:
New Year's Day, Patriots Day, Memorial Day, Independence Day, Labor Day, Thanksgiving Day, and Christmas Day.
*The service may operate on a reduced/limited schedule on other holidays. Visit the MWRTA homepage as the holiday approaches for exact schedule details.
Fares
Fare collection has begun as of May 1, 2023. Fares are currently $2.00 per trip. When logging into the Catch App, please visit the "Fares" tab. There, you can link a Credit/Debit card to your account and add value.
Bags/Luggage
Customers are limited to 4 shopping bags or 3 pieces of luggage, not to exceed 40 lbs. each, to ensure room for additional customers onboard.
How to Ride
See the video below for how to use the application:
Sign up for getting special offers and event news by email.