Gain More Customers as a Member of the Wellesley Square Merchants' Association
As a Member, you'll automatically be a part of all of our events and promotions, plus exclusive benefits listed below.
Sunday, December 3
12 – 6 p.m.
The Holiday Stroll and it's Scavenger Hunt are celebrated Wellesley traditions.
The community turns out en mass for the festivities, free parking. This year's event is Sunday, December 3, starting at 12 noon and continues through the tree lighting ceremony which begins at 5 p.m.
We'll promote you, your special offers and the events with extensive marketing which attracts shoppers to all parts of Wellesley Square.
Join as a member or sign-up to participate as a non-member to in participate. See the details and form below.
Being a Scavenger Hunt site means…
You'll provide four (4) $25.00 gift certificates OR four (4) gift bags, each worth $25.00.
The Scavenger Hunt will work electronically (with mobile phones and QR codes), making it easier for the players, with less of a distraction for you and your employees.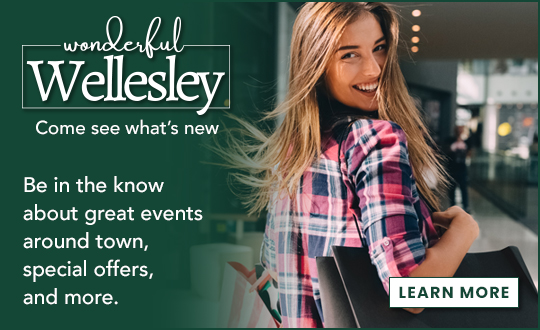 Campaign Objective: to support your business.
"Wonderful Wellesley" is a multi-year marketing campaign made possible by a collective effort between the Town and leaders from all areas of Wellesley
A grant from the Commonwealth is funding a marketing effort targeting people within a 10-mile radius of Wellesley
Your Membership is Worth $3,000+ in Benefits
…And funds our Wellesley Square events.
✓ Inclusion in all Association events and promotions
✓ Listing on the Wellesley Square page at TheSwellesleyReport.com
✓ Profile page on ShopWellesleySquare.com
Includes a link to your website and location (Google map)
Wellesley Square map
✓ Easily post your news to reach Wellesley's shoppers
It will appear on ShopWellesleySquare.com and WonderfulWellesley.com
✓ Swellesley Report Ad Share Program
✓ Marketing graphics and templates you can use
✓ Discounts on marketing services
✓ Executive sponsorship options available
If you have any questions or would like further information, please contact: Demian Wendrow, London Harness / Tumi Wellesley (781) 237-5950
Email Demian
An invoice will be emailed to you once you register.
Sign up for getting special offers and event news by email.