How to make the most of the
2023 July Jubilation Sidewalk Sale and Festival
…and the Wonderful Wellesley campaign.
As a Member, you'll automatically be a part of it all.
Event Date: Saturday, July 15
We'll promote you, your special offers and the events with extensive marketing which attracts shoppers to all parts of Wellesley Square
New Member benefits are about to be announced
Easily post news to ShopWellesleySquare.com, TheSwellesleyReport.com…and now WonderfulWellesley.com
Scroll Down for the Entertainment Line-up from 2022 and More Details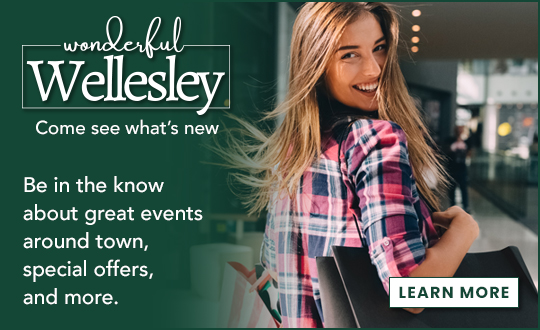 Campaign Objective: to support your business.
"Wonderful Wellesley" is a multi-year marketing campaign made possible by a collective effort between the Town and leaders from all areas of Wellesley
A grant from the Commonwealth is funding a marketing effort targeting people within a 10-mile radius of Wellesley
Your Membership is Worth $3,000+ in Benefits
…And funds our Wellesley Square events.
✓ Inclusion in all Association events and promotions
✓ Inclusion in our TheSwellesleyReport.com partnership
•  50% discount on advertising
•  Listing on the Wellesley Square Landing page
✓ Profile page on ShopWellesleySquare.com
Includes a link to your website and location (Google map)
Wellesley Square map
✓ Easily post your news to reach thousands of people
It will appear on our Home page, our Wellesley Square page at TheSwellesleyReport.com (their third most popular page) and WonderfulWellesley.com
✓ Swellesley Report Ad Share Program
✓ Marketing graphics and templates you can use
✓ Discounts on marketing services
✓ Executive sponsorship options available
If you have any questions or would like further information, please contact: Demian Wendrow, London Harness / Tumi Wellesley (781) 237-5950
Email Demian
Register Today (Deadline: May 24)
An invoice will be emailed to you once you register.
SCORES OF MERCHANTS WILL HAVE SIDEWALK SALES
Plus…
ENTERTAINMENT LINE-UP
DETAILS AND TIMES ARE SUBJECT TO CHANGE
Live Music provided Wellesley Rocks
9:30a – 4:30p in two locations:
Central St. by Faber's Rug; Church Square
Dunk Tank
11a – 3p
Petting Zoo
11a – 3p
Stilt Walker
11a – 3p (roaming Wellesley Square)
Balloon Artist Linda Peck
11a – 3p (roaming Wellesley Square)
Sam's Hot Dogs
10a – 4p
Active Entertainment for All Ages
Featuring Knucklebones fun and games
11a – 3p
Bounce House
10a – 4p
Smokey The Bear & The Smokehouse
10a – 4p
Fire Truck and Open Police Cruiser
10a – 4p
Bach 2 Rock
9:30a – 4:30p
Peter Panic the Juggler & Unicyclist
11a – 2p (roaming Wellesley Square)
Bubble Zone Science of Bubbles
11a – 3p
Wellesley Symphony
10a – 2p in Central Park
Tim Brown – Magic & Balloon Tricks
11a – 3p at Wellesley Toy Shop
We Rock the Spectrum
9:30a – 4:30p
B/SPOKE Studios bikes, snacks and goodies, and samples from their DR/P CAFE
9:30a – 4:30p
Due to unforeseen circumstances, Wellesley Theatre Project will not be performing this year.
This is a condensed presentation of the Zoom meeting on June 15, 2022.
AGENDA BASED ON START TIME
0:45 – Save 50% on Advertising with The Swellesley Report
1:13 – New Swellesley Report Advertising Benefit for You
2:27 – New Post Tool
4:37 – How to Use the New Instagram Collab Tool
6:50 – Finalizing July Jubilation Sidewalk Sale Details
LINKS
Post Your News and Offers HERE…
https://shopwellesleysquare.com/member-news-form/
You are on the Member Benefits and Sign-up Page
Please see more below.