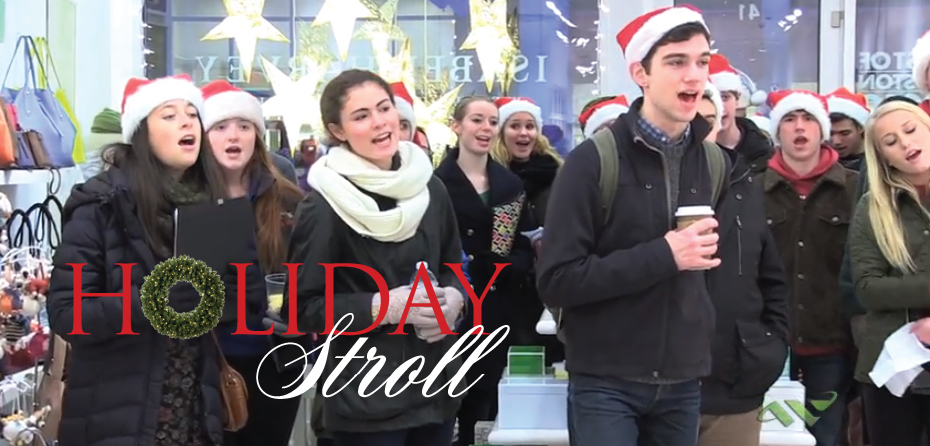 SUNDAY, DECEMBER 2
12 NOON TO 6:00 PM
All New Scavenger Hunt
Visit stores with snowflakes to play.
New: five winners, each receiving $1,000.00 in prizes.
See the list of participating stores below.
SCHEDULE OF EVENTS
1:00-5:00 Sleigh Rides
1:00-5:30 Meet Frosty and Rudolph
1:00-3:00 Ice sculpture at Wellesley Bank
1:00-3:00 Pictures with Santa
2:00-2:30 Meet ELMO at Wellesley Toy Shop
4:00-5:00 Sleigh Rides with Santa
5:00 – 6:00 Holiday Tree Lighting
Click for the Free Parking Map
Join Us In Supporting The Rotary Club's Program To Fight Opioid Abuse

Drug overdose is currently the leading cause of accidental death for adults under the age of 50 in the United States. The Wellesley Rotary Club will conduct Addiction Prevention Seminars to strengthen community understanding of addiction and methods of prevention.
Visit the Rotary Program in The TUMI Store on Dec. 2
Rotarians are becoming involved in addiction prevention by bringing together prevention experts, parents, and other community stakeholders. The approach is to make it possible to quickly educate attendees on critical but often misunderstood forces that drive addiction. An additional goal of these gatherings is to establish relationships, partnerships and collaborations to tackle the ongoing local need for education, and substance abuse prevention.
All donations will be received by the Rotary Club of Wellesley Foundation, are tax deductible, and will be spent on the Club's programs to fight opioid abuse.
Participating Stores, Including Scavenger Hunt Locations
* = Scavenger Hunt Stores
*Anderson's Jewelers
*ATELIER Salon
*Barber Walters
B.GOOD
*B/SPOKE Studios
Bach 2 Rock
*Beauty and Main
Benoit Mizner and Simon & Co.
Bocado Tapas Wine Bar
*Cachet
Church Square
*Clever Hand Gallery
*Cocobeet
*Coldwell Banker Residential
Comina
*CouCou
CVS
*Dellaria Salon
*DePrisco Jewelers
Dover Saddlery
*E. A. Davis & Co.
*Eileen Fisher
*Engel & Volkers
European Manor
Faber's Rug Company
*Fastachi
*FATFACE
*Footstock
*GettiGear
*IRRESISTIBLES
*Isabel Harvey
*J. McLaughlin
*JP Licks
Jarbo Collection
*Joel Bagnal Goldsmith
and Jewelers
*Kidville
*Lacrosse Unlimited
*LASH L'AMOUR
*LF Stores
*London Harness
*Lux Bond and Green
*Lyn Evans
*Mane and Mani
Needham Bank
*O'Neil Jewelers
*Orangetheory Fitness
*Page Waterman, Gallery & Framers
Prepped & Polished Tutoring
Roger Pelissier Photography
*Rotary Club of Wellesley
Rutledge Properties
Smith & Wollensky Wellesley
*Sprig & Vine
*Tumi Wellesley
*Upper Crust Pizzeria
Vision Optics
Wasik's Cheese Shop
Wellesley Bank
*Wellesley Books
Wellesley Chamber
*Wellesley Holiday Boutique
Wellesley Theatre Project
*Wellesley Toy Shop
* = Scavenger Hunt Stores