"A Hole Lot Of Fun"

Promotional Resources Exclusively for Co-Sponsors
PROMOTIONAL TEXT
"A Hole Lot Of Fun" – A Great Family Event at the Wellesley Free Library
The Wellesley Free Library will be transformed by an entire mini golf course for the enjoyment of the community.
18 Greens and holes will be set up throughout the library, upstairs and downstairs, including a "19th Hole" in the Wakelin Room which features:
Food
Interactive Games
Glitter Tattoos and Performances by Kidville's Rockin' Railroad Band
Kiddie Ice Cream Cone Coupons from J.P. Licks
15% Off Coupons redeemable at all Co-Sponsors
SATURDAY, FEBRUARY 28
5:00 p.m. – 9:00 p.m.
SUNDAY, MARCH 1
9:00 a.m. – 1:00 p.m.
Individual Round of Golf  $7.00
Group of 5   $30.00
Children under the age of 10 must play with an adult
The Wellesley Square Merchants' Association, including ten participating stores, are sponsors of the 19th Hole.
GRAPHICS
Click on each graphic to view and download the full-size file.
This first promotional graphic is designed for each Co-Sponsor to add their logo in the open white space at the bottom. Its dimensions are 472 W x 394 H (pixels), perfect for use on Facebook.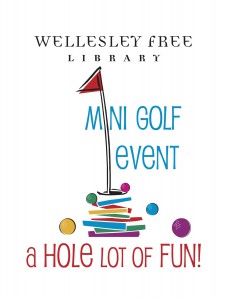 This coupon will be handed out during the event. When customers bring it to your store, please clip off the tab with the name of your business so they can use the coupon at the other stores.


If you have any questions or would like further information, please contact:
Demian Wendrow London Harness (781) 237-5950 or Email Demian