PUBLIC BLOG POST FROM 2019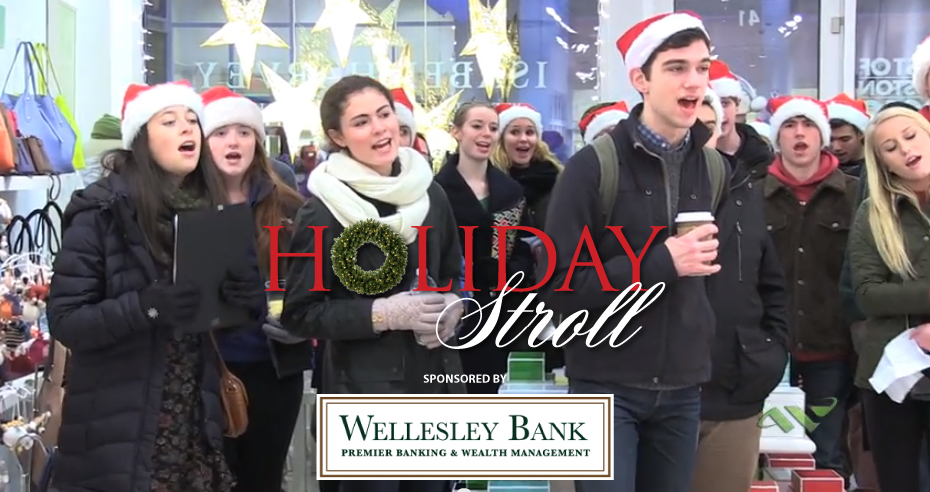 SUNDAY, DECEMBER 1 | 12 NOON TO 6:00 PM
Scroll down for details on how to play the all new Scavenger Hunt
SCHEDULE OF EVENTS
12:00-3:00 Meet and greet Elsa from Frozen in the Grove street area
1:00-5:00 Sleigh Rides
1:00-5:30 Meet Frosty and Rudolph
1:00-3:00 Ice sculpture at Wellesley Bank
1:00-3:00 Pictures with Santa
2:00-2:30 Meet ELMO at Wellesley Toy Shop
4:00-5:00 Sleigh Rides with Santa
5:00 – 6:00 Holiday Tree Lighting
Thank you for supporting our Holiday Stroll Sponsors
How to Play the all new Scavenger Hunt with your Smartphone
Play this Sunday, December 1 to win $1000 in gift cards to Wellesley Square stores.
Four (4) winners will picked.
1. PRE-REGISTER HERE AND NOW
CLICK HERE
or…
Scan this QR code to register:
NO APP REQUIRED
iPhone: point camera
at QR code
Android: scan at getqr.io … and allow access to camera when prompted.
2. PLAY
Pick up a

green

playing card at any of the participating Scavenger Hunt stores
Go to the stores on both sides of this card
Find and scan the QR Snowflake in each store
just like you scanned the registration QR code
Complete all 28 scans, and you're done.
(Want to play the traditional way? Get a red playing card at London Harness, 45 Central Street.)
Scavenger Hunt Stores by Area
Grove & Washington Streets
Visit and scan the QR code snowflake in all four of these stores:
• Anderson's Jewelers
• DePrisco Jewelers
• European Manor
• LASH L'AMOUR
Church Square
Visit and scan the QR code snowflake in all four of these stores:
• E.A. Davis
• J.McLaughlin
• Lyn Evans
• Smith & Wollensky
Central Street
Visit and scan the QR code snowflake in at least 20 of these stores:
• Alta Strada
• B/Spoke
• Beauty and Main
• Cashmere Sale (pop-up store)
• Clever Hand Gallery
• Cocobeet
• Coldwell Banker Residential
• Dellaria Salon
• Eileen Fisher
• Engel & Volkers
• Footstock
• For Now (pop-up store)
• iCode
• Irresistibles
• Isabel Harvey
• J.P. Licks
• Joel Bagnal Goldsmiths and Jewelers
• Kidville
• Lacrosse Unlimited
• LINX
• London Harness
• Lux, Bond, & Green
• Mane and Mani
• O'Neil Jewelers
• Orangetheory Fitness
• Pop 91 (pop-up store)
• Rotary Club of Wellesley
• Sprig & Vine
• StretchMed Studio
• TUMI Wellesley
• Wears Woody (pop-up store)
• Wellesley Holiday Boutique
• Wellesley Toy Shop
Join Us In Supporting The Rotary Club of Wellesley

Meet and support the Rotarians on Dec. 1
Location to be announced.
Rotary Programs Support Our Youth
Tutoring Programs for disadvantaged students
Adolescent Depression Prevention  helping students deal with depression issues in themselves and others
MassBay Community College – Providing meals to financially limited students
All Members of the Wellesley Square Merchants' Association
Including limited-time pop-up stores, these are the businesses that make the Holiday Stroll and other events possible.
Alta Strada
Anderson's Jewelers
Barber Walters
B.GOOD
B/SPOKE Studios
Bach 2 Rock
Beauty and Main
Benoit Mizner and Simon & Co.
Cashmere Sale
Church Square
Clever Hand Gallery
Cocobeet
Coldwell Banker Residential
CVS
Dellaria Salon
DePrisco Jewelers
Dover Saddlery
E. A. Davis & Co.
Eileen Fisher
Engel & Volkers
European Manor
Faber's Rug Company
Footstock
For Now
iCode
IRRESISTIBLES
Isabel Harvey
J.McLaughlin
J.P. Licks
Jarbo Collection
Joel Bagnal Goldsmith and Jewelers
Kidville
Le Petite Esthétique
Lacrosse Unlimited
LASH L'AMOUR
LINX Companies
London Harness
Lux Bond and Green
Lyn Evans
Mane and Mani
Music Together
Needham Bank
O'Neil Jewelers
Optical Designs
Orangetheory Fitness
Page Waterman, Gallery & Framers
Pampered Puppies
Pop 91
Prepped & Polished Tutoring
Rotary Club of Wellesley
Rutledge Properties
Scalliwags Day Care
Smith & Wollensky Wellesley
Sprig & Vine
Steve DeMasco's Shaolin Studios
STRETCHMED Studios
Tumi Wellesley
Upper Crust Pizzeria
Wasik's Cheese Shop
Wears Woody
Wellesley Bank
Wellesley Books
Wellesley Chamber of Commerce
Wellesley Holiday Boutique
Wellesley Municipal Light Plant
Wellesley Theatre Project
Wellesley Toy Shop