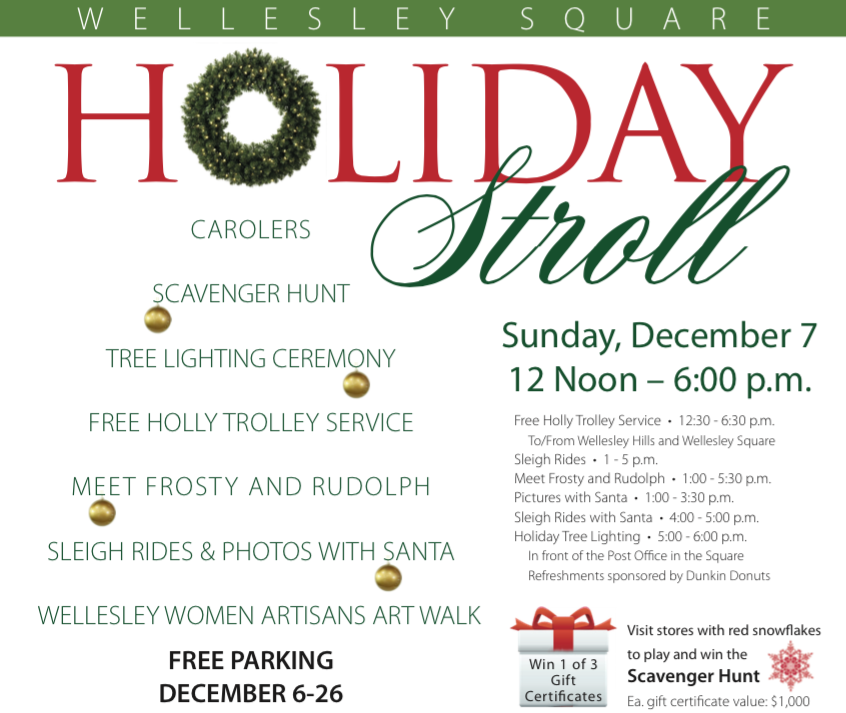 PRESENTED BY THE WELLESLEY SQUARE MERCHANTS' ASSOCIATION
PRIMARY SPONSORS
Abigail's Children's Boutique
Alex and Ani
Anderson's Jewelers
Be Styled
Beauty & Main
Benoit Mizner and Simon & Co.
Bocado
Boloco
Century Bank
Clever Hand Gallery
*Coldwell Banker Residential
CVS
E. A. Davis & Co.
Dorset Cafe
European Manor
*Eileen Fisher
Faber's Rug Company
First Commons Bank
*Florijn HOME
Follain
*Footstock
Fulham Salon
GETTIGEAR
*Gustaire Oils & Vinegars
Haberdashery
IRRESISTIBLES
*Isabel Harvey
JP Licks
Juniper
Joel Bagnal Goldsmith and Jewelers
*Kidville
LF Stores
The Local
*London Harness
Lux Bond and Green
*Lyn Evans for Potpourri Designs
Music Together
Needham Bank
North River Outfitters
O'Neil Jewelers
Page Waterman Gallery
Papyrus
Patti Bros. Lighting
*Pine Straw
Rutledge Properties
Salon Danilo
Second Time Around
Terrazza
Tumi Wellesley
Vision Optics
*Wasik's Cheese Shop
Wellesley Bank
*Wellesley Books
Wellesley Chamber of Commerce
Wellesley Free Library
*Wellesley Holiday Boutique
*Wellesley Theatre Project
*Wellesley Toys and Gifts
Winston Flowers
Your French Gift
Merchants marked with an asterisk "*" are participating in the ART WALK.
Additional Holiday Stroll Details
The Holly Trolley is Back
Click here for details and the schedule.
The ART WALK is December 6 and 7
The ART WALK is a project of the Wellesley Women Artisans and the Merchants' Association. Proceeds will go towards Wellesley Educational Foundation grants that support the Visual Arts Curriculum at Wellesley Public Schools.
Click here for details.
Free Parking Starts December 6
We're grateful to the Town of Wellesley and to the Wellesley Square merchants for making this possible.
Click here for the free parking map.